About Genestra TADS (60 Tablets)
Genestra TADS Tablets
TADS Adrenal gland extract contains proteins and essential nutrients that can help optimize your adrenal functioning. Genestra's formula provides freeze-dried bovine adrenal (165 mg per tablet) which contains the active hormones that can supplement for the activity of an under-functioning gland. Naturopath's recommend patients with lethargy, dizziness, headaches, memory problems, food cravings, blood sugar imbalances, and increased infections due to adrenal deficiencies take a glandular extracts such as TADS.
Benefits:
Bovine Adrenal 165 Mg Per Tablet
Supports Wound Healing And Tissue Formation
Supports Immune System
Convenient Tablet Format
Shop our entire collection of supplements.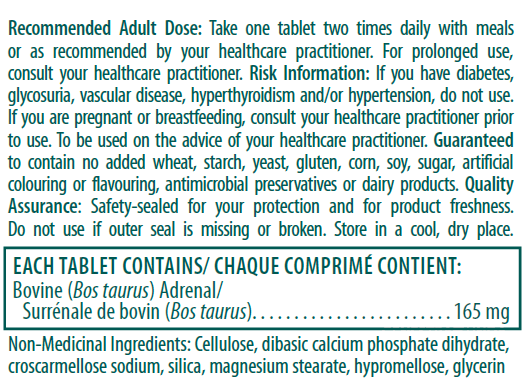 Recommended Adult Dosage: Take one tablet two times daily with meals or as recommended by your healthcare practitioner. For prolonged use, consult your healthcare practitioner.