About Four Sigmatic Mushroom Hot Cacao Mix with Cordyceps 6 g (Box of 10)
Four Sigmatic Mushroom Hot Cacao Mix with Cordyceps
The unique combination of cordyceps mushrooms, herbs, and spices in this drink is designed to help you get going and keep going. Besides being delicious and accessible, cacao and chocolate drinks are a traditional way to ingest 'Äúmedicines.' (Now, that 's some good news, right?) In fact, having your herbs and mushrooms with cacao makes them even more effective!

Cordyceps mushroom plays the main role in this hot cocoa, and is a vital part of high and balanced all-day energy levels. Not only that, but it is energy that doesn 't stress the adrenals. Next up is cacao, an effective mood enhancer, antioxidant source, and comfort food. The legendary Amazonian adaptogen, guarana, amplifies the effects of the other herbs included in this drink (each packet includes 20 mg of natural caffeine derived from guarana).
Benefits:
Cordyceps is an adaptogen, not a stimulant, so it helps produce and maintain constant energy levels on the cellular level. The uplifting effects of cordyceps work like magic with cacao.
Each packet contains 400 mg of the most potent cordyceps CS-4 extract, with at least 40 percent polysaccharides (more than 15 percent beta-glucans) and 15 percent cordycepic acid. No starch, sugars, or any fillers at all.

Cacao is an effective mood enhancer, an antioxidant source, and a perfect delivery system for herbs and mushrooms because it opens up the capillaries. About 50 percent of each packet is composed of this smooth, flavorful, minimally processed cacao powder, grown in the volcanic soils of Indonesia.

Coconut palm sugar is a mineral-rich alternative to refined sugars, and it has an exceptionally low glycemic index (GI). It is made by boiling down the sap of the coconut palm, the maple syrup of the tropics. One serving contains only 2.5 grams of coconut palm sugar—just enough to create a nice texture and a hint of sweetness. To put this in perspective, this amount compares to about one-tenth of the sugar in one banana!

This hot chili is a strong thermogen, which means it raises the body temperature and increases metabolism. The mild burning sensation it leaves in your mouth results in a release of even more good-feeling hormones and balances blood-sugar levels.
Shop our entire collection of supplements.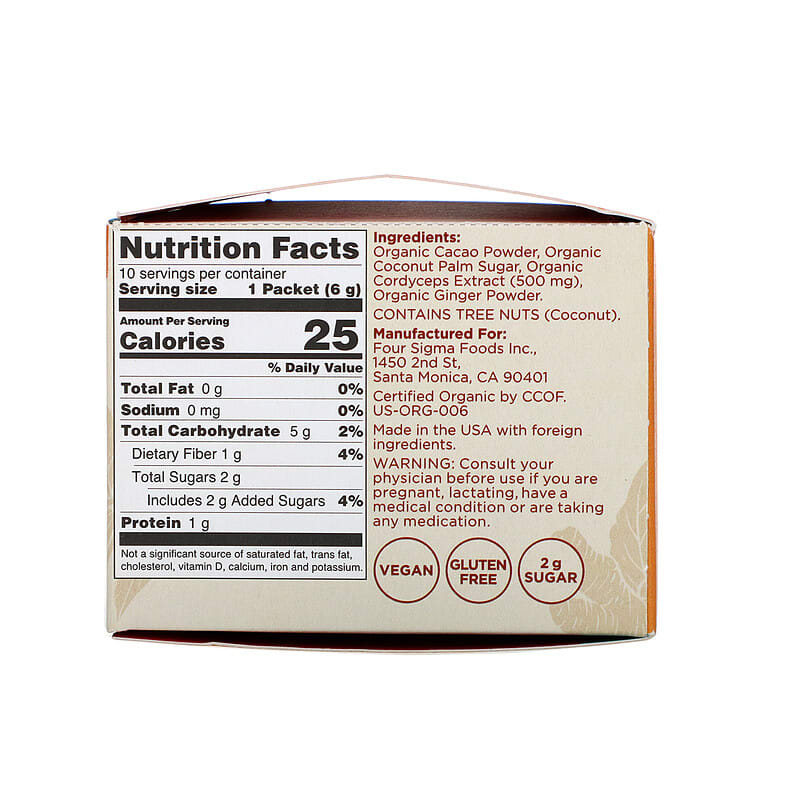 Drink espresso-style by adding one packet to 3 fluid oz. of hot water. Drink one or two packets per day.