About Genestra Adreno Calm (120 VCaps)
Adreno Calm is a calming combination of L-theanine, phosphatidylserine and herbal extracts. L-Theanine is an amino acid present almost exclusively in tea that helps to temporarily promote relaxation. It is quickly absorbed from the intestines into the blood, where it is transported to important organs, including the brain.
By mediating the release of neurotransmitters including dopamine, GABA and serotonin L-theanine effectively promotes a state of relaxation. Clinical research demonstrates that supplementation with 200 mg of L-theanine significantly increases alpha waves in the brain within 30 minutes of intake, an indication of a relaxed but alert mental state.
L-Theanine has been shown to promote relaxation when consumed at rest, after stressful mental tasks, and after exhaustive exercise tests. Phosphatidylserine is a naturally occurring component of cell membranes, and supports normal cellular communication and membrane fluidity.
Adreno Calm also includes standardized extracts from magnolia and ashwagandha, plants used in traditional Chinese and Ayurvedic medicine, respectively.
Benefits:
Helps to temporarily promote relaxation
Provides 200 mg each of L-theanine and ashwagandha root std. extract per day
Includes 150 mg of magnolia bark std. extract and 50 mg of phosphatidylserine per day
Dairy Free
Gluten Free
Vegan
Shop our entire collection of supplements.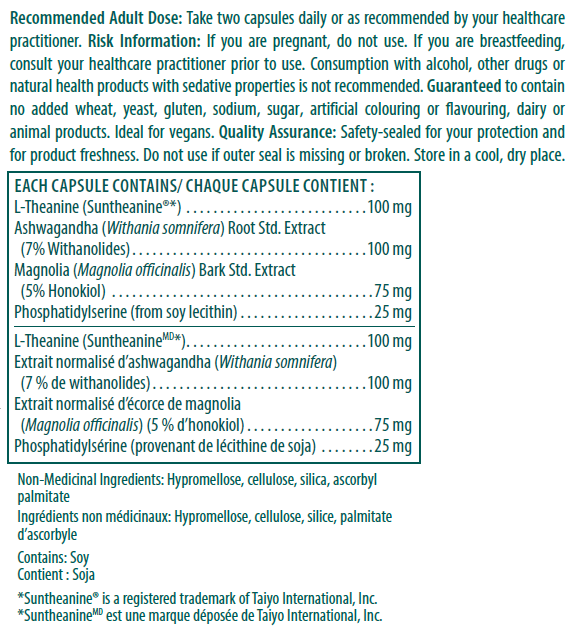 Adult Dose: Take two capsules daily or as recommended by your healthcare practitioner.
Risk Information: If you are pregnant, do not use. If you are breastfeeding, consult your healthcare practitioner prior to use. Consumption with alcohol, other drugs or natural health products with sedative properties is not recommended.
Guaranteed to contain no added wheat, yeast, gluten, sodium, sugar, artificial colouring or flavouring, dairy or animal products. Ideal for vegans.