About Genestra HMF Child Probiotic Formula - Natural Black Currant (30 Chewable Tablets)
HMF Child probiotic formula is a moderate level probiotic combination providing Lactobacillus acidophilus, Bifidobacterium bifidum, Lactobacillus paracasei, Lactobacillus salivarius and Bifidobacterium animalis subsp. lactis, which help support a healthy gut flora in children.
Benefits:
Contributes to a natural healthy gut flora
12.5 billion CFU per dose
Chewable tablet with natural blackcurrant flavour
Genestra HMF probiotics (despite having keep refrigerated on box) maintain a high degree of stability at 25C for up to 20 days.
Shop our entire collection of supplements.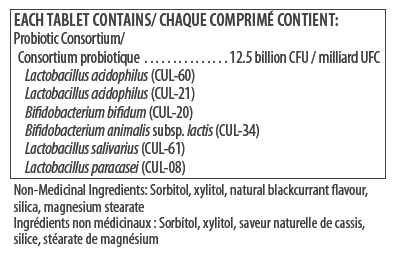 Recommended Dose: Children (4 years and older): Chew 1 tablet with a meal, at least 2 to 3 hours before or after taking antibiotics, or as recommended by your healthcare practitioner.