About Progressive Multivitamin Active Men (60 VCaps)
Progressive Multivitamin Active Men (VCaps) is a cutting-edge dietary supplement that caters to the distinct requirements of men who are constantly on the go, whether it's for work, exercise, or simply living life to the fullest. This unique formula is delivered in a convenient vegetable capsule (VCaps) format, making it easy to incorporate into your daily routine. Each capsule is packed with a blend of essential vitamins, minerals, and other beneficial nutrients that are specially selected to promote overall well-being and to help you maintain peak performance.
Benefits
Complete Nutritional Support: This multivitamin is like a one-stop shop for your nutritional needs. It provides a broad spectrum of essential vitamins and minerals to help ensure that you're getting the fundamental nutrients your body needs for optimal function.
Enhanced Energy: Active men often require more energy to fuel their physical activities and demanding lifestyles. This supplement includes B-vitamins, which play a crucial role in energy metabolism, helping you stay energized throughout the day.
Muscle and Bone Support: This formula contains key nutrients like vitamin D, calcium, and magnesium, which are vital for maintaining strong bones and muscle function. This is especially important for active individuals who put added stress on their musculoskeletal system.
Antioxidant Protection: Packed with antioxidants like vitamin C and E, this supplement can help protect your body from the harmful effects of free radicals, which can be produced during intense physical activities.
Heart Health: Progressive Multivitamin Active Men (VCaps) contains heart-healthy nutrients such as CoQ10 and resveratrol, which can contribute to cardiovascular well-being, a crucial factor for overall health, especially in active men.
Immune Support: A robust immune system is essential for staying active and healthy. This multivitamin includes vitamins and minerals like vitamin A, C, and zinc, which help support your immune system's function.
Stress Management: With the inclusion of adaptogens like Rhodiola and Ashwagandha, this supplement can assist in managing stress, which can be a common challenge for those with active and demanding lifestyles.
Digestive Health: A blend of digestive enzymes and probiotics promotes optimal digestion and nutrient absorption, ensuring that you get the most out of the nutrients in your diet and this supplement.
Vegan-Friendly: The vegetable capsule format is suitable for individuals following a vegetarian or vegan lifestyle.
Shop our entire Vitamins collection here.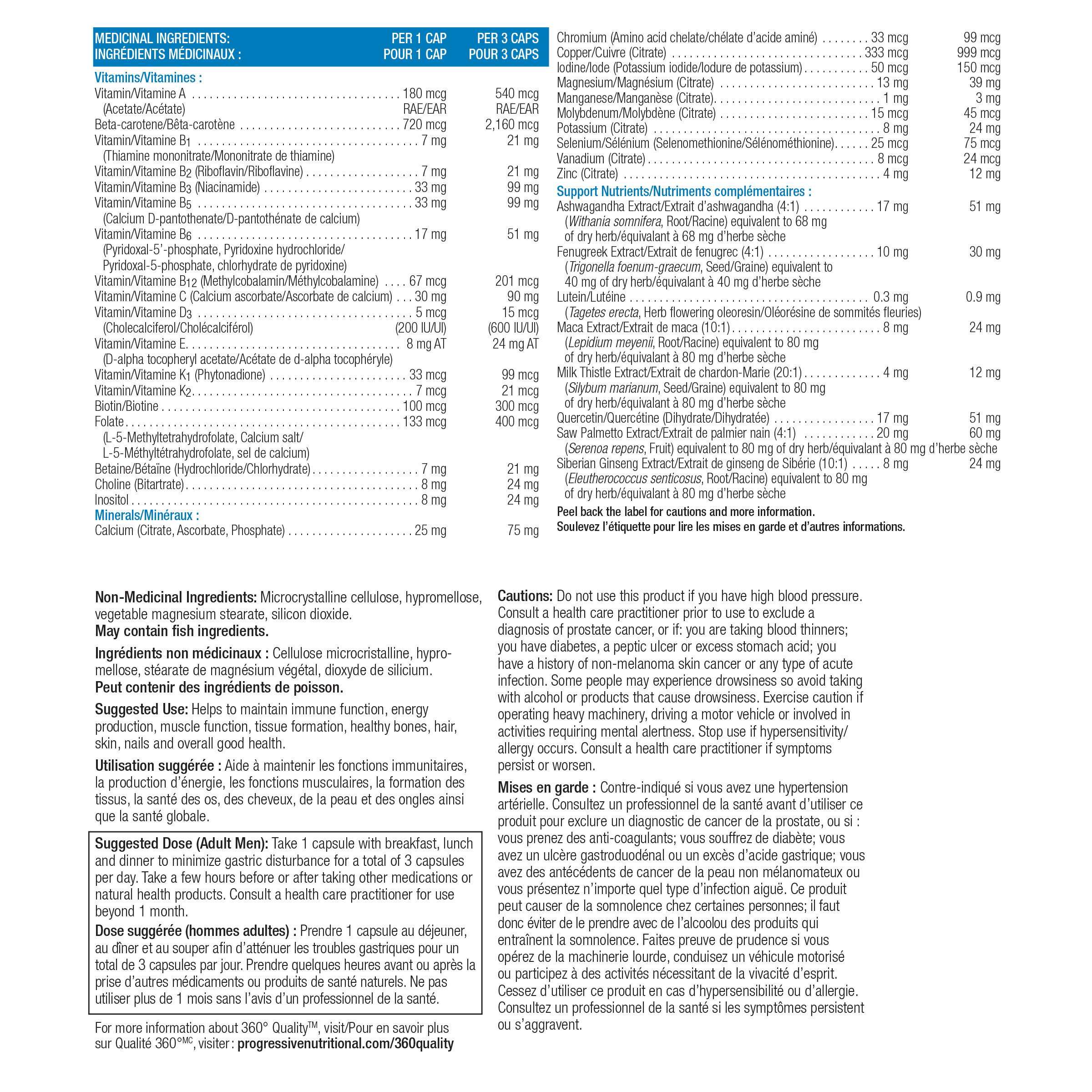 (Adult Men): Take 1 capsule with breakfast, lunch and dinner to minimize gastric disturbance for a total of 3 capsules per day. Take a few hours before or after taking other medications or natural health products. Consult a health care practitioner for use beyond 1 month.
Cautions: Do not use this product if you have high blood pressure. Consult a health care practitioner prior to use to exclude a diagnosis of prostate cancer, or if: you are taking blood thinners; you have diabetes, a peptic ulcer or excess stomach acid; you have a history of non-melanoma skin cancer or any type of acute infection. Some people may experience drowsiness so avoid taking with alcohol or products that cause drowsiness. Exercise caution if operating heavy machinery, driving a motor vehicle or involved in activities requiring mental alertness. Stop use if hypersensitivity/allergy occurs. Consult a health care practitioner if symptoms persist or worsen.