About Progressive Multivitamin Active Women (VCaps)
Progressive Multivitamin Active Women (VCaps) is a high-quality, vegetarian-friendly multivitamin supplement that is carefully formulated to provide essential nutrients tailored to the specific needs of active women. It comes in easy-to-swallow vegetable capsules and contains a wide array of vitamins, minerals, and other beneficial ingredients to help women maintain optimal health while leading busy and active lives.
Benefits
Energy and Vitality: This multivitamin is packed with B-vitamins, which play a crucial role in converting food into energy. This can help active women feel more energetic and combat the fatigue that often accompanies a hectic lifestyle.
Bone Health: Progressive Multivitamin Active Women contains calcium and magnesium, essential for maintaining strong bones. This is particularly important for active women who may put extra stress on their skeletal system.
Antioxidant Support: The formula includes a range of antioxidants such as vitamins C and E, selenium, and green tea extract. These antioxidants help protect cells from oxidative damage caused by free radicals, promoting overall health and potentially reducing the risk of chronic diseases.
Hormonal Balance: The multivitamin contains essential nutrients like vitamin B6 and chaste tree extract that may help support hormonal balance. This can be beneficial for women dealing with PMS or menopausal symptoms.
Cardiovascular Health: With ingredients like Coenzyme Q10 (CoQ10) and vitamin E, this supplement promotes heart health by supporting optimal circulation and reducing the risk of cardiovascular issues.
Digestive Support: Included in the formula are enzymes and herbal extracts like ginger and cranberry, which can aid in digestion and promote a healthy urinary tract.
Immune System Support: A strong immune system is essential for overall health. This multivitamin provides essential vitamins and minerals like vitamin C, zinc, and selenium that support immune function.
Skin and Hair Health: Biotin, a B-vitamin, promotes healthy skin and hair. For active women who might experience stress-related skin and hair issues, this can be a significant benefit.
Stress Management: The adaptogenic herb Rhodiola helps the body adapt to stress and may improve mood and mental clarity.
Vegetarian-Friendly: These vegetable capsules are suitable for vegetarian and vegan diets, ensuring that women with various dietary preferences can benefit from this multivitamin.
Shop our entire Vitamins collection here.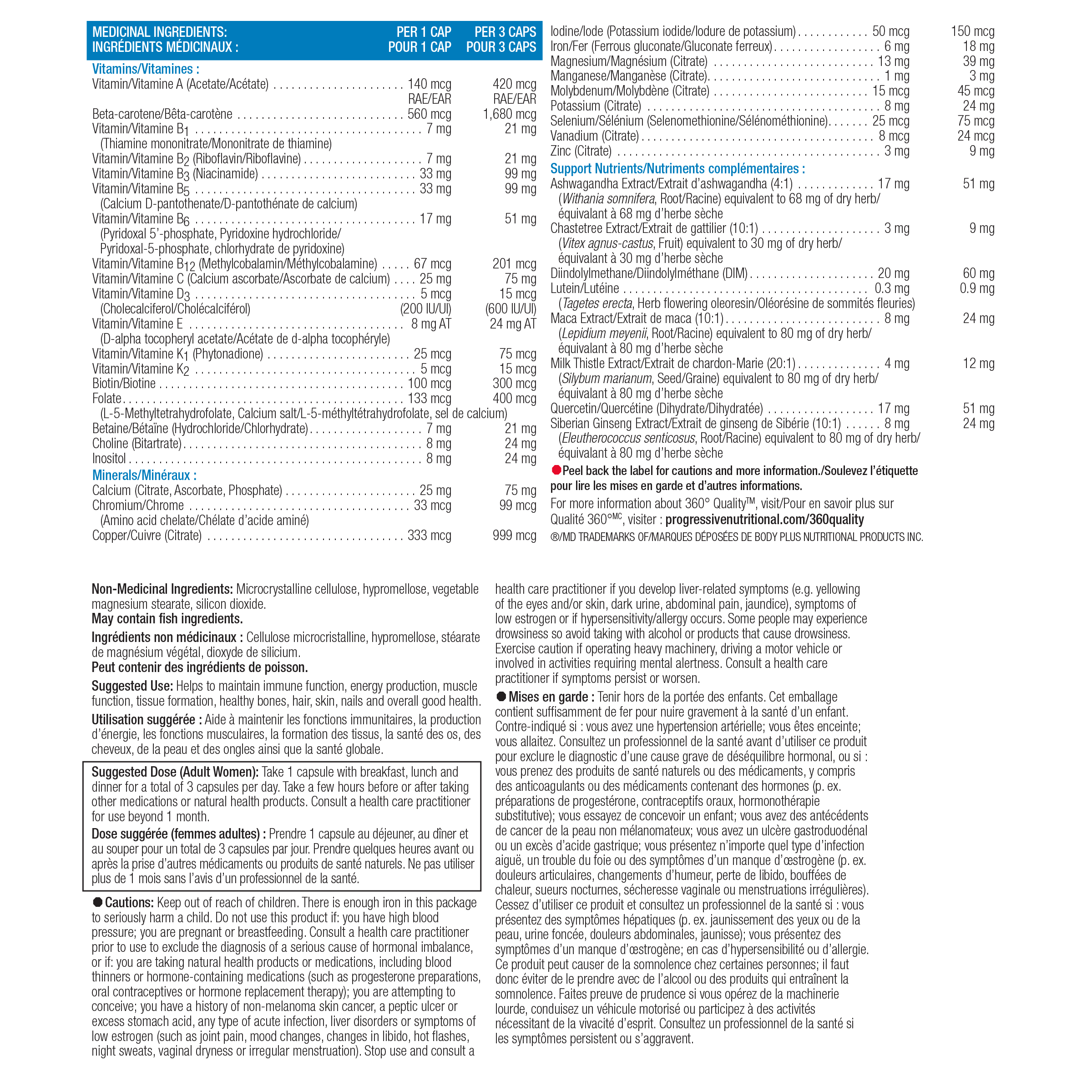 (Adult Women): Take 1 capsule with breakfast, lunch and dinner for a total of 3 capsules per day. Take a few hours before or after taking other medications or natural health products. Consult a health care practitioner for use beyond 1 month.
Cautions: Keep out of reach of children. There is enough iron in this package to seriously harm a child. Do not use this product if: you have high blood pressure; you are pregnant or breastfeeding. Consult a health care practitioner prior to use to exclude the diagnosis of a serious cause of hormonal imbalance, or if: you are taking natural health products or medications, including blood thinners or hormone-containing medications (such as progesterone preparations, oral contraceptives or hormone replacement therapy); you are attempting to conceive; you have a history of non-melanoma skin cancer, a peptic ulcer or excess stomach acid, any type of acute infection, liver disorders or symptoms of low estrogen (such as joint pain, mood changes, changes in libido, hot flashes, night sweats, vaginal dryness or irregular menstruation). Stop use and consult a health care practitioner if you develop liver-related symptoms (e.g. yellowing of the eyes and/or skin, dark urine, abdominal pain, jaundice), symptoms of low estrogen or if hypersensitivity/allergy occurs. Some people may experience drowsiness so avoid taking with alcohol or products that cause drowsiness. Exercise caution if operating heavy machinery, driving a motor vehicle or involved in activities requiring mental alertness. Consult a health care practitioner if symptoms persist or worsen.