About Progressive Multivitamin Adult Men (VCaps)
Progressive Multivitamin for Adult Men (VCaps) is a comprehensive dietary supplement specially formulated to support the unique nutritional needs of adult men. This high-quality multivitamin is designed to promote overall health and well-being, addressing various aspects of men's health, from energy and immune support to heart health and more.
Benefits
Energy Support: Packed with a range of B-vitamins, this multivitamin helps boost energy levels and combat fatigue, ensuring you stay energized throughout the day.
Immune System Health: Vitamins like C, D, and zinc support a strong immune system, helping your body defend against infections and illnesses.
Heart Health: The addition of essential minerals like magnesium and potassium contributes to cardiovascular health by helping to regulate blood pressure and improve overall heart function.
Prostate Health: Progressive Multivitamin for Adult Men often includes nutrients like saw palmetto and lycopene, which are beneficial for maintaining prostate health and reducing the risk of related issues.
Bone Health: Adequate levels of calcium and vitamin D promote strong bones and help in preventing conditions like osteoporosis.
Antioxidant Support: This multivitamin is rich in antioxidants, which neutralize harmful free radicals in the body, potentially reducing the risk of chronic diseases and promoting healthy aging.
Cognitive Function: Ingredients like ginkgo biloba and other brain-boosting nutrients support cognitive function, memory, and mental clarity.
Digestive Health: Many formulations include digestive enzymes and probiotics to support healthy digestion and nutrient absorption.
Skin and Hair Health: Biotin and other skin- and hair-friendly nutrients can improve the condition and appearance of hair, skin, and nails.
Stress Management: Some formulations may include adaptogens or herbs like ashwagandha to help the body adapt to stress and promote overall well-being.
Eye Health: Nutrients like lutein and zeaxanthin may support eye health and protect against age-related vision issues.
Sports and Fitness Support: Men who are active or engaged in fitness routines can benefit from multivitamins that contain nutrients like creatine or amino acids to enhance performance and muscle recovery.
Shop our entire Vitamins collection here.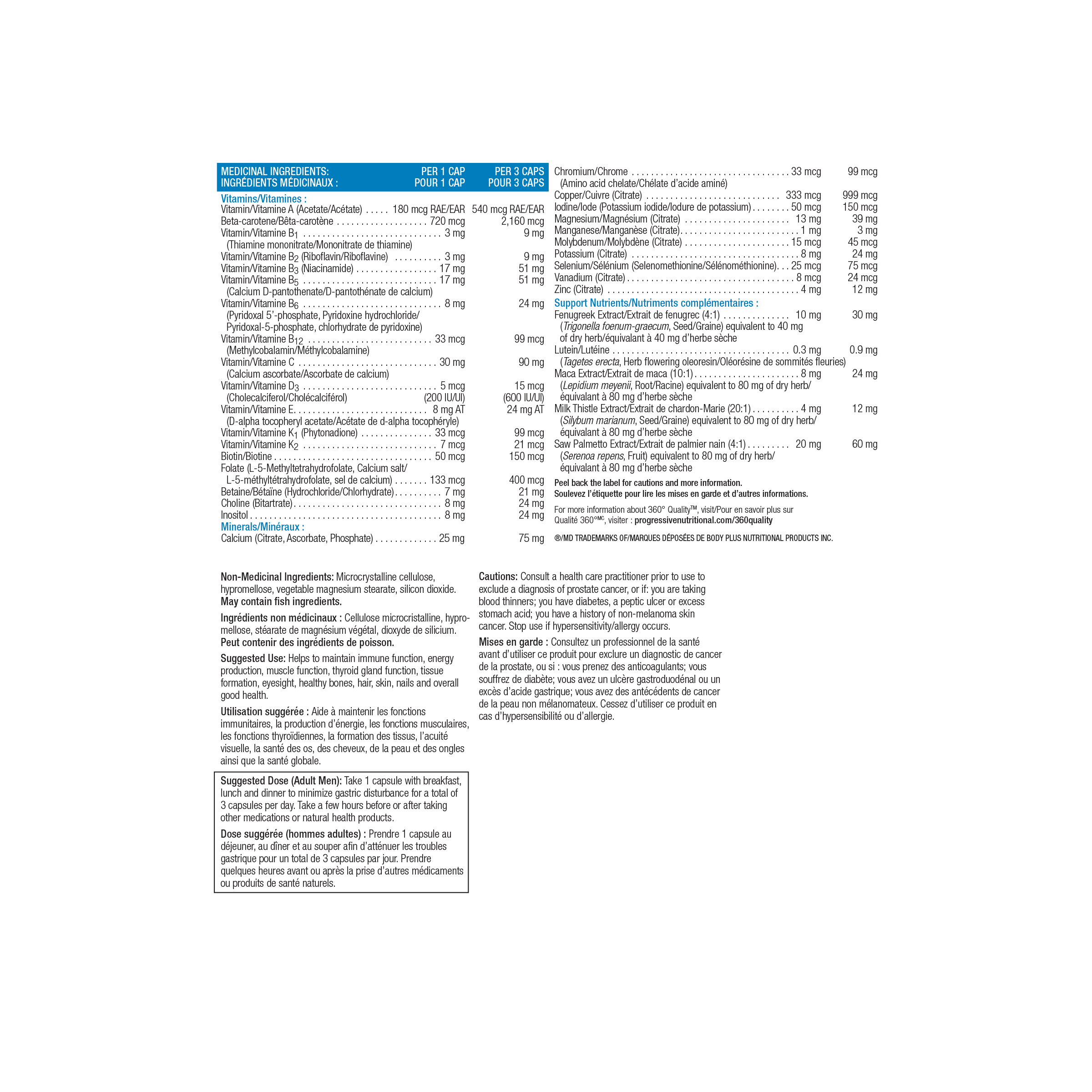 (Adult Men): Take 1 capsule with breakfast, lunch and dinner to minimize gastric disturbance for a total of 3 capsules per day. Take a few hours before or after taking other medications or natural health products.