About Vitasave Magnesium L-Threonate 48mg (120 vegetable capsules)
Vitasave Magnesium L-Threonate (120 VCaps) is a dietary supplement formulated to provide magnesium in the form of magnesium L-threonate. This specific form of magnesium is known for its potential cognitive benefits and high bioavailability. Magnesium is an essential mineral that plays a crucial role in various physiological functions within the body.
Benefits
Superior Brain Health Support: Vitasave Magnesium L-Threonate enhances cognitive function and supports brain health, promoting better memory, focus, and mental clarity.
High Absorption Formula: Our patented formula ensures maximum absorption for optimal results, providing your body with the magnesium it needs for neurological well-being.
Restful Sleep & Stress Relief: Beyond brain benefits, our product aids in relaxation and stress reduction, helping you achieve better sleep and overall mental balance.
Non-GMO & Vegan-Friendly: We care about your health and values. Our magnesium L-Threonate is non-GMO and suitable for vegans, ensuring quality and inclusivity.
Shop our entire collection of supplements.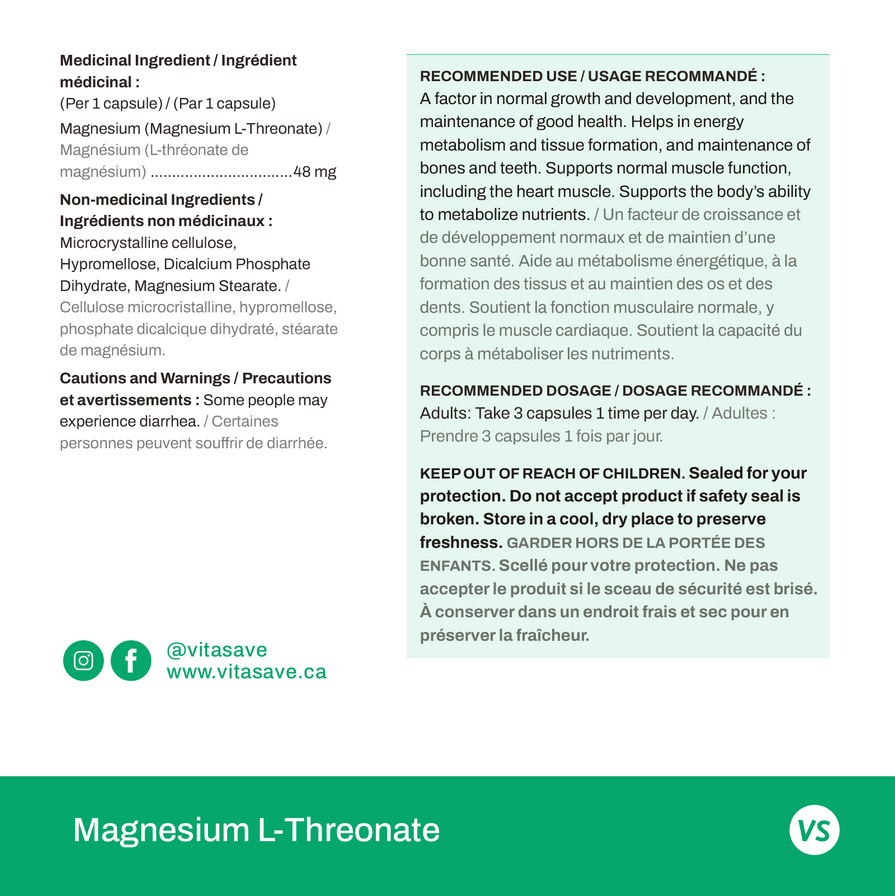 Adults: Take 3 capsules 1 time per day.