About Vitasave Organic Lion's Mane (120 VCaps)
Vitasave's organic Lion's Mane capsules are made from high-quality Hericium Erinaceus, known for its potent cognitive and immune-boosting properties.
Benefits
Enhanced Brain Function: Elevate your mental clarity, focus, and memory with our natural brain booster, promoting cognitive enhancement and optimal brain health.
Vegan & Non-GMO: Our vegetarian pills are crafted with the utmost care, suitable for both vegans and non-vegans. They are also free from GMOs, ensuring pure, clean nutrition.
Made in Canada: Trust in our product's quality, as it's proudly manufactured in Canada, following strict quality control standards and supporting local businesses.
Gluten-Free Wellness: With our Lion's Mane mushroom supplement, you can prioritize your health without the worry of gluten, ensuring a gluten-free, holistic approach to well-being.
Shop our entire collection of supplements.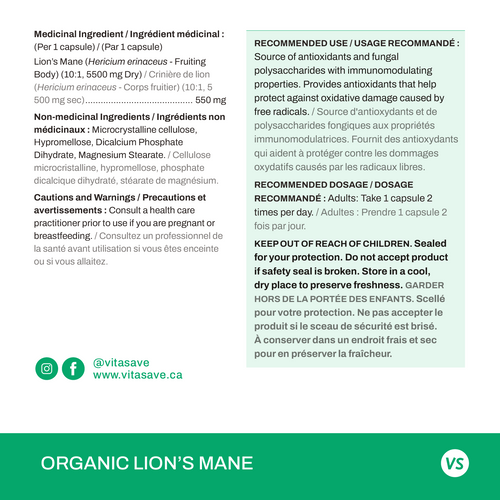 Adults: Take 1 capsule 2 times per day.