About Nordic Naturals Pet Cod Liver OIl - Unflavoured (237 mL)
Nordic Naturals Pet Cod Liver Oil is a high-quality dietary supplement designed to support the health and well-being of cats and dogs. This oil is made from wild-caught Arctic cod and provides a rich source of omega-3 fatty acids, as well as vitamins A and D.
Benefits
Supports overall health and well-being in cats and dogs
Helps promote healthy skin and coat
Supports joint health and mobility
Supports brain and eye health
Helps maintain a healthy immune system
Provides a rich source of essential nutrients
p>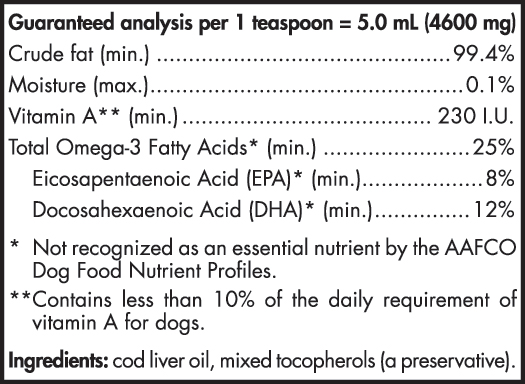 Suggested daily use for dogs 20–79 lbs:
20–39 lbs: 2.5 mL (184 mg EPA/276 mg DHA)
40–59 lbs: 5.0 mL (368 mg EPA/552 mg DHA)
60–79 lbs: 7.5 mL (552 mg EPA/828 mg DHA)
Apply oil onto food, or serve by itself. Do not exceed the suggested daily use without consulting your veterinarian.
Attention:
Consult your veterinarian if your pet has a chronic illness or is on any medication before using this product. Inform your veterinarian that your pet is receiving this product before any anticipated surgery. Consult your veterinarian in cases of accidental ingestion. Keep out of the reach of children and pets.