About Genestra HMF Maternity (30 VCaps)
HMF Maternity Probiotics by Genestra provides 10 billion CFU of probiotics specifically designed for pregnant women to support a healthy pregnancy.
Healthy intestinal bacteria are just as important to infants as to adults. Modern living may inhibit gut flora balance post birth. Therefore, the acquisition of a beneficial flora (good bacteria) potential in the newborn can be significantly enhanced if the mother also takes a probiotic during pregnancy. Additionally, probiotics will help support the intestinal function of the mother during the pregnancy period.
Benefits:
Source of probiotics that temporarily modify gut flora
Suitable for use during pregnancy
Genestra HMF probiotics (despite having keep refrigerated on box) maintain a high degree of stability at 25C for up to 20 days.
Shop our entire collection of supplements.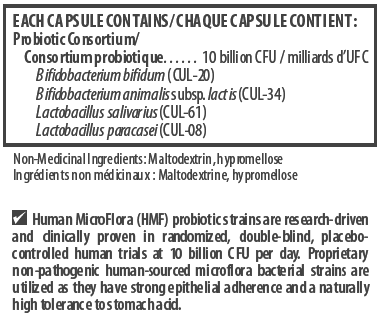 Recommended Dose: Women: Take one capsule daily with a meal, at least two to three hours before or after taking antibiotics, or as recommended by your healthcare practitioner.
Risk Information: If you have an immune-compromised condition, do not use. If you are experiencing nausea, fever, vomiting, bloody diarrhea or severe abdominal pain, consult your healthcare practitioner prior to use. If symptoms of digestive upset occur, worsen, or persist beyond three days, discontinue use and consult your healthcare practitioner.