About Genestra Scorbatate (170 g)
Genestra Scorbatate Powder
Scorbate's formula is designed to maximize absorption and utilization of this essential vitamin. Scorbate from Genestra is in the buffered Ascorbate form which helps to prevent stomach irritation that is common when supplementing with plain ascorbic acid found in many over the counter VITAMIN C supplements. Scorabte delivers 1,000 mg of Vitamin C per serving and also contains minerals and bioflavonoids that help increase the effectiveness of Vitamin C. Vitamin C is considered the top healthy aging and longevity vitamin by many researchers and naturopaths, is an important antioxidant vitamin involved in the growth and repair of all tissues of the body, wound healing, and the health of connective tissues, bones, cartilage, teeth and gums. Convenient powder format for optimal delivery.
Benefits:
High Potency Vitamin C Formulation
1,000 Mg Per Serving
With Added Minerals
Considered The Top Healthy Aging And Longevity Vitamin
An Important Antioxidant Vitamin
Convenient Powder Format
Shop our entire Vitamins collection here.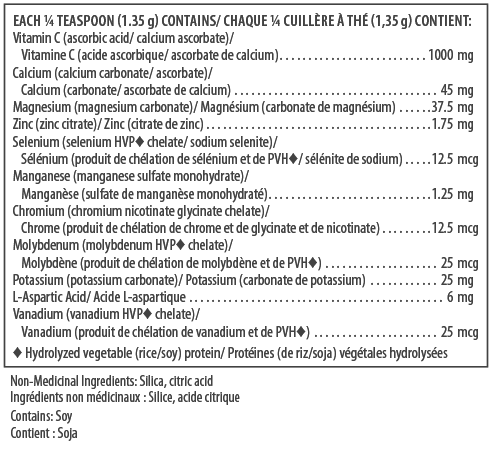 Recommended Dose: Adults (19 years and older): Add water or juice to . teaspoon of Scorbatate and mix.Take once daily with a meal, a few hours before or after taking other medications, or as recommended by your healthcare practitioner.