About Progressive VegeGreens Clean Energy - Tangy Orange (242 g)
Progressive VegeGreens Clean Energy - Tangy Orange
Progressive VegeGreens Clean Energy in Tangy Orange flavor is a dietary supplement designed to provide a concentrated source of essential nutrients from a variety of vegetables, fruits, and other plant-based ingredients. It is formulated to support overall health, energy levels, and well-being.
Benefits
Nutrient-Rich: VegeGreens Clean Energy is typically rich in vitamins, minerals, antioxidants, and phytonutrients derived from a blend of vegetables, fruits, herbs, and botanicals. These nutrients can contribute to overall health and vitality.
Energy Support: Some greens supplements include ingredients that may help support natural energy production, helping you feel more alert and energized throughout the day.
Antioxidant Protection: The antioxidants found in these supplements may help combat oxidative stress and protect cells from damage caused by free radicals.
Alkalizing Properties: Many greens supplements are designed to have an alkalizing effect on the body, which can help maintain a healthy pH balance and support various bodily functions.
Digestive Health: Some formulas include digestive enzymes and probiotics to support healthy digestion and nutrient absorption.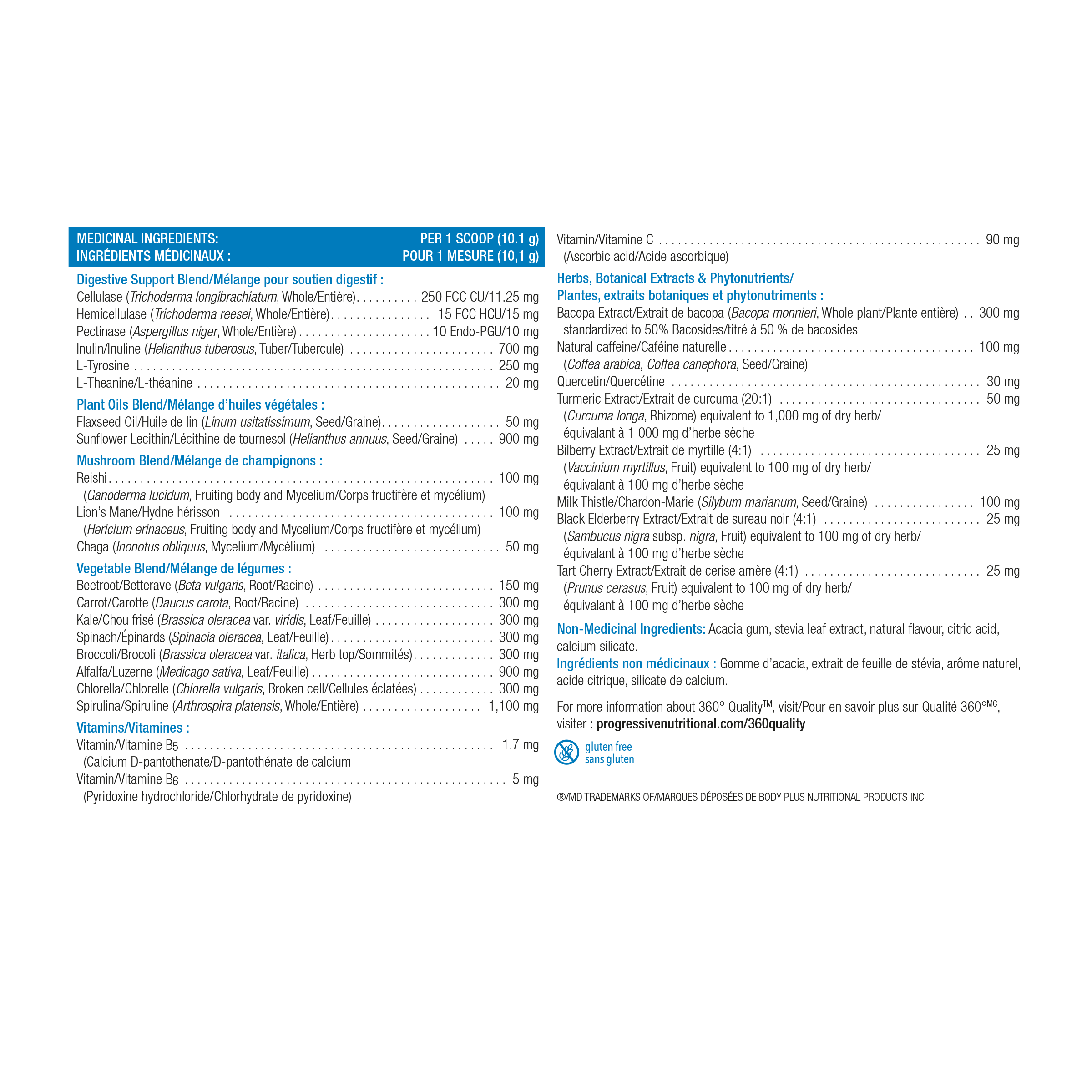 Mix 1 rounded scoop (10.1 g) of VegeGreens® Clean EnergyTM into 300 mL of water or juice once daily. Take with food a few hours before or after taking other medications or natural health products and up to one hour before or during periods of physical stress to avoid digestive upset. For prolonged use consult a health care practitioner, as product is intended for occasional use only.

Cautions
Do not use this product if you are pregnant, breastfeeding or have a history of systemic lupus erythematosus. Consult a health care practitioner prior to use if: you are taking blood thinners, birth control medication, undergoing hormone replacement therapy (HRT); you have diabetes, high blood pressure, glaucoma, overactive bladder syndrome (detrusor instability), gallstones, a bile duct obstruction, stomach ulcers or excess stomach acid. Consult a health care practitioner if symptoms persist or worsen. Avoid taking with health products or foods that contain caffeine and/or increase blood pressure (e.g. medications, coffee, tea, colas, cocoa, guarana, mate, bitter orange extract, synephrine, octopamine, ephedra, ephedrine). This product is not intended as a substitute for sleep. May cause digestive problems. Stop use if hypersensitivity/allergy occurs.